Visita guiada a la Sala de la planta baixa
Small mathematical experiences
What does the guided tour include?
Visit the "Maria Montessori" room of the MMACA on the ground floor of the Palau Mercader in Cornellà with thought materials for children. It begins with a brief presentation and indications on the different modules by the educators of the MMACA, then, freely, the students will be able to face the different challenges of the exhibition that include calculation, geometry, distribution to the plan and to the space and orientation, with the support, if necessary, of the educators. At the end, a collective review of what has been worked on is carried out.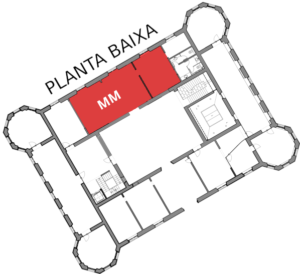 More information about the activity
Within the general objective of the development of all the capacities of the growing child, the objective of the visit to the exhibition is to confront children with objects or attractive situations that pose a series of practical problems to solve. The resolution of these simple challenges requires their understanding, abstraction and development of strategies. The presentation with manipulable material encourages these steps to be carried out actively. Developing these mathematical thinking skills is the objective of the activity.
Understanding numbers and their operations. Mental calculation. Classification of shapes especially geometric and their situation in the plane and in space. Orientation to space. Exploration of symmetry. Development and planning of resolution strategies. Verbal communication of situations between colleagues. Render data in a bar chart.
Understand the different challenges posed in each module. Use the test and the test for its resolution. Verbalize the situation and ideas of other colleagues using a rich and precise vocabulary.
Specific to living together and inhabiting the world
Other activities for school groups