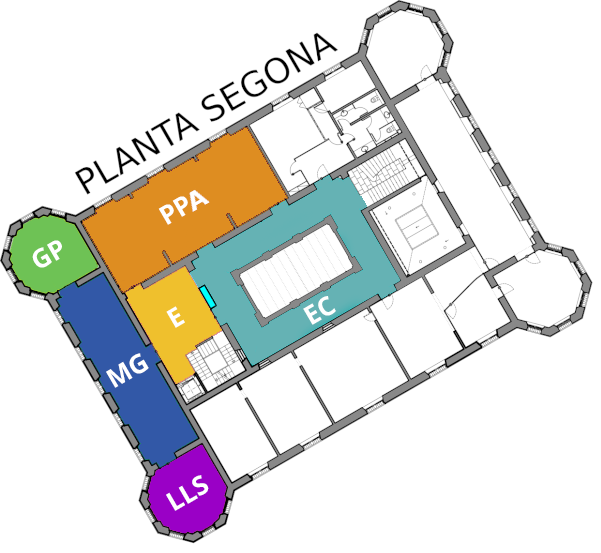 This room is located in one of the octagonal towers that frame the Mercader Palace, and is dedicated to the modules of probability and statistics.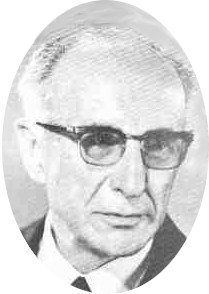 Lluís A. Santaló (Girona, 1911 – Buenos Aires, 2001) was a Catalan mathematician who lived much of his life in Argentina where he went into exile in 1939 fleeing the Franco dictatorship.
In addition to being a renowned mathematician, he also stood out as a scientific communicator and expert in didactics.
The Lluís Santaló Chair of Applications of Mathematics at the University of Girona has compiled most of his work.
The MMACA is considered heir to his ideas regarding didactics and dissemination. Read, for example what he told us in the interview that the magazine L'ESCAIRE did to him in 1985:
Intuition is essential to the acquisition of conocimientos. Tiene sus peligros, and in view of ello, has existed the tendency of irla diminishyendo, bajo pretexto to logate a logical majority. Esto está muy bien on the upper level, for the systematizing mathematics. But learning is something. As well as the stomach digiere sin saber chemistry, asf nuestro intelecto asimila muchos conocimientos por saltos discontinuos, sin necesidad to follow the rigorous paths but pesados of the logic. What hay que hacer is to ayuda to the intuición and educate him so that he does not make mistakes. Hacer that the mathematics sea intuitive is the work of the maestros and teachers. Cuando a theorem bequeaths to be intuitivo, ya no se olvida más.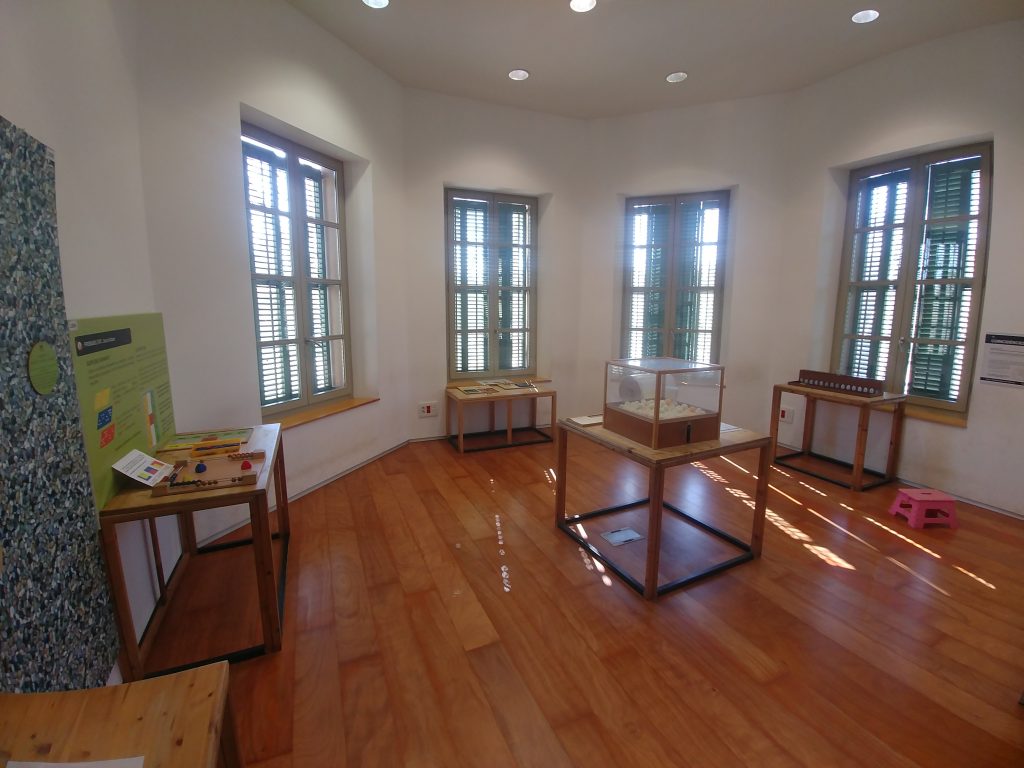 Some modules in this room
A drum that allows you to collect a sample of 50 balls and estimate the proportion of colored balls.
Additional resources and material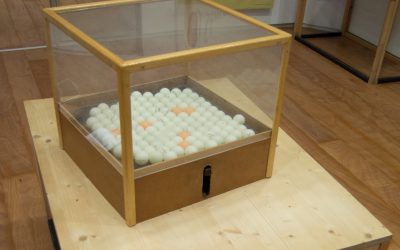 LS01 – Chance is not regular
This module consists of a transparent box with white ping pong balls and some oranges. A lever allows you to hit the base and stir them. This way we can see how there are almost always areas with all the white balls and places where oranges accumulate.
Recommended age: +10 years
Keywords: RANDOMNESS, CAUSALITY, EPIDEMIOLOGY, STATISTICS, PROBABILITY
A transparent cylinder with thousands of balls of two colors, and a device that allows to collect small samples. The proportion of colored balls observed in the sample allows to determine (with a 95%) probability between what values is the proportion of color balls throughout the drum.
Recommended age: +14 years
Keywords: SAMPLE, CONFIDENCE INTERVAL,
PERCENTAGE, STATISTICS, PROBABILITY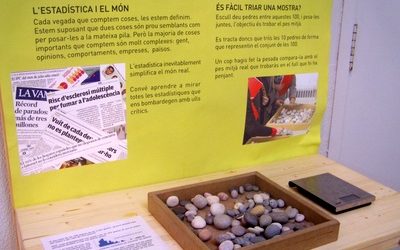 LS03 – Taking a sample of 10 stones
The module consists of extracting and weighing a representative sample of 10 stones among the set of 100 pebbles of different sizes.
Recommended age: +14 years
Keywords: SAMPLE, RANDOMNESS, STATISTICS, PROBABILITY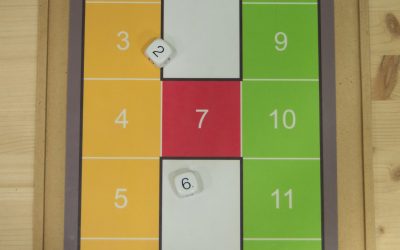 LS04 – GAME OF THE HAC
This game of chance consists of an H-shaped board where the bets are placed.
Recommended age: +10 years
Keywords: DAU, HOPE, FAIR PLAY, PROBABILITY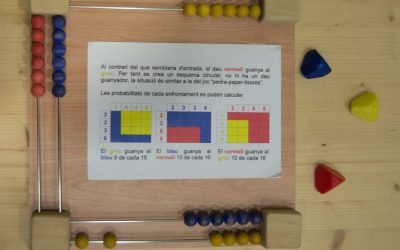 LS04 – Non-transferive dice
Board with abac type counters and three tetraerid dice of scores (4,4,4,1) , (3,3,3,6) and (2,2,5,5). It allows to check that the probability of one dice winning the other sets a circular scheme and there is no absolute winning dice.
Recommended age: +10 years
Keywords: FRACTION, PERCENTAGE, PROPORTION, TRANSITIONALITY, ORDERING, LAPALCE, STATISTICS, PROBABILITY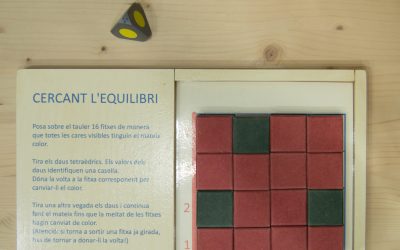 LS07 – Seeking balance
The game consists of a board with 16 tiles with different colored faces and two tetraelic cubes to obtain the coordinates of each tile. It allows you to experience how visible colors vary.
Recommended age: +8 years
Keywords: POPULATIONS, STRATEGY, EVOLUTION, PROBABILITY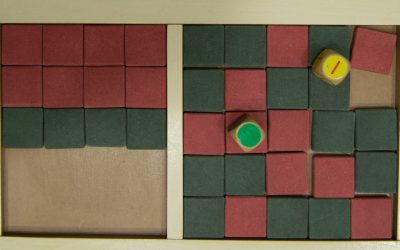 LS07 – Mors tua vita mea
A board with red and green tiles that represent a population that evolves randomly following the rules. It allows you to experience which growth option is best.
Recommended age: +10 years
Keywords: POPULATIONS, STRATEGY, EVOLUTION, PROBABILITY
LS08 – Coincidences, 15 holes and 8 eggs
This device with 15 holes allows us to verify that the probability of randomly laying 8 eggs, some eggs have coincided in the same hole, is very high. When opening the doors, it is checked.
Recommended age: +10 years
Keywords: EVENT, OPPOSITE EVENT, BIRTHDAYS, PROBABILITY