Activities for school groups in the MMACA of CORNELLÀ
The activities for groups that we arrange in the permanent exhibition of Cornellà de Llobregat have two lines: one focused on groups between 1st and 4th grade of primary education (6-10 years) and another for groups from 5th grade of primary school (from more than ten years until adults).  The content and shape of the activities are adapted to the age and level of the group.
Practically all places sold out for activities in the museum for this 2022-2023 academic year. 
from 1st to 4th grade of primary school
For students from 1st to 4th grade of primary we offer the guided tour "Small mathematical experiences" and the workshops "Let's discover geometry" and "Let's build polyminous".
We will work in small groups manipulating pieces of wood in polygonal shapes. We will identify the pieces, study their characteristics, combine them to create new geometric shapes. 
We will build the pentominous, figures formed by 5 squares, we will discover how many there are. We will combine them forming rectangles and other figures, we will investigate its perimeter and its surface.
5th and 6th grade of primary, secondary school, baccalaureate and others
For students over 10 years old to adults, we offer the guided tour "Mathematical experiences", the workshop "Leonardo's domes" and the "Mathematical Gymkhana".
Discounts and special prices
In any of the above cases, indicate it in the order notes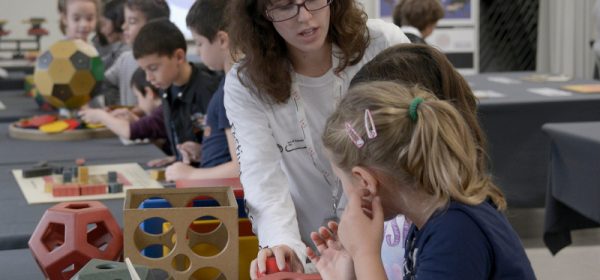 Now, MMACA also goes to school
If you can't move to mmaca, don't worry! The MMACA moves to your school, institute or center with all the material to carry out our workshops. We have prepared a wide offer to adapt to each level and your needs.
COMPLEMENTARY ACTIVITIES AROUND MMACA
You may also be interested in:
Suitcases for schools
From the classroom to the museum... and the museum in the classroom! The suitcases of manipulative material of the mmaca give continuity to the experience of the visit to the museum. The material can be used both as a free workshop, as well as for work in the classroom or guided workshop.
Activities for summer camps
We have everything ready for summer 2021. Check out all the activities we have prepared for summer camps.
Activities for teachers
We have training aimed at educators or profiles of mathematical dissemination from the childish to adult level.
Do you want to come to the MMACA with your center?